International Women's Day | A Chat with our Founder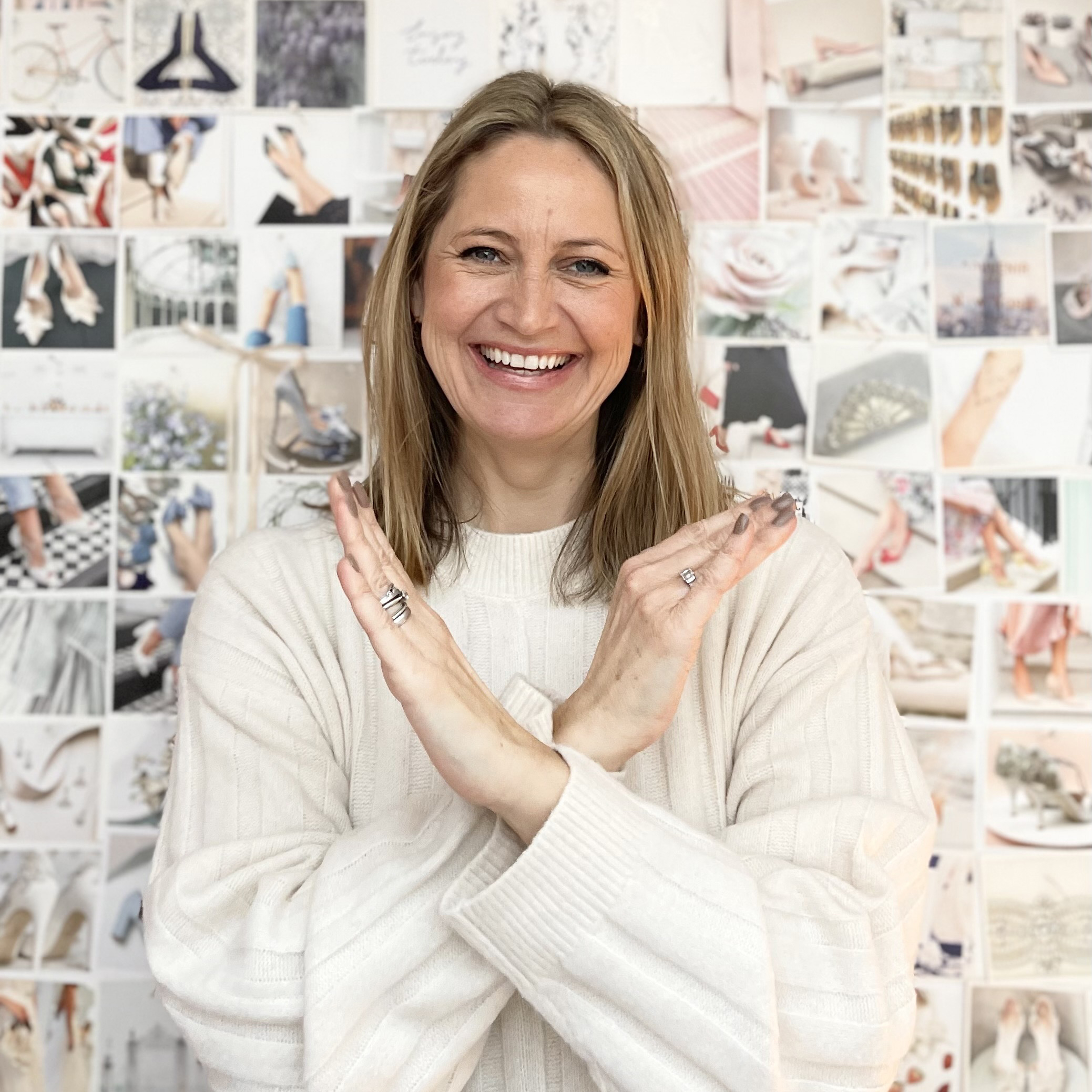 In celebration of International Women's Day we thought that it was the perfect opportunity to hear from our very own female founder! Like the shoes she designs, Emmy has a unique story to tell.
Emmy lets us in on what inspired her to start the company, her thoughts behind shoe designs and a few other ideas she has up her sleeve for the future!
What does international women's day mean to you?


So for me it's really important to have the opportunity and privilege to inspire young girls and women to pursue a creative career.
I found school quite difficult, I'm dyslexic. I knew I was clever and I understood all of the academic subjects, but when I got tested or did an essay, I didn't get very good marks which I found it really frustrating. If I'd let that dictate my future or put boundaries in front of what I could achieve, I wouldn't be doing what I'm doing now. I was always really encouraged that I was good at art and that I was creative, so I pursued that path with confidence.
Having twin teenage girls at senior school means I experience girls and young women not encouraged to pursue creative subjects as they are perceived as an unsafe career path. So for me, International Women's Day is an opportunity to show that you can be successful and creative if you have confidence.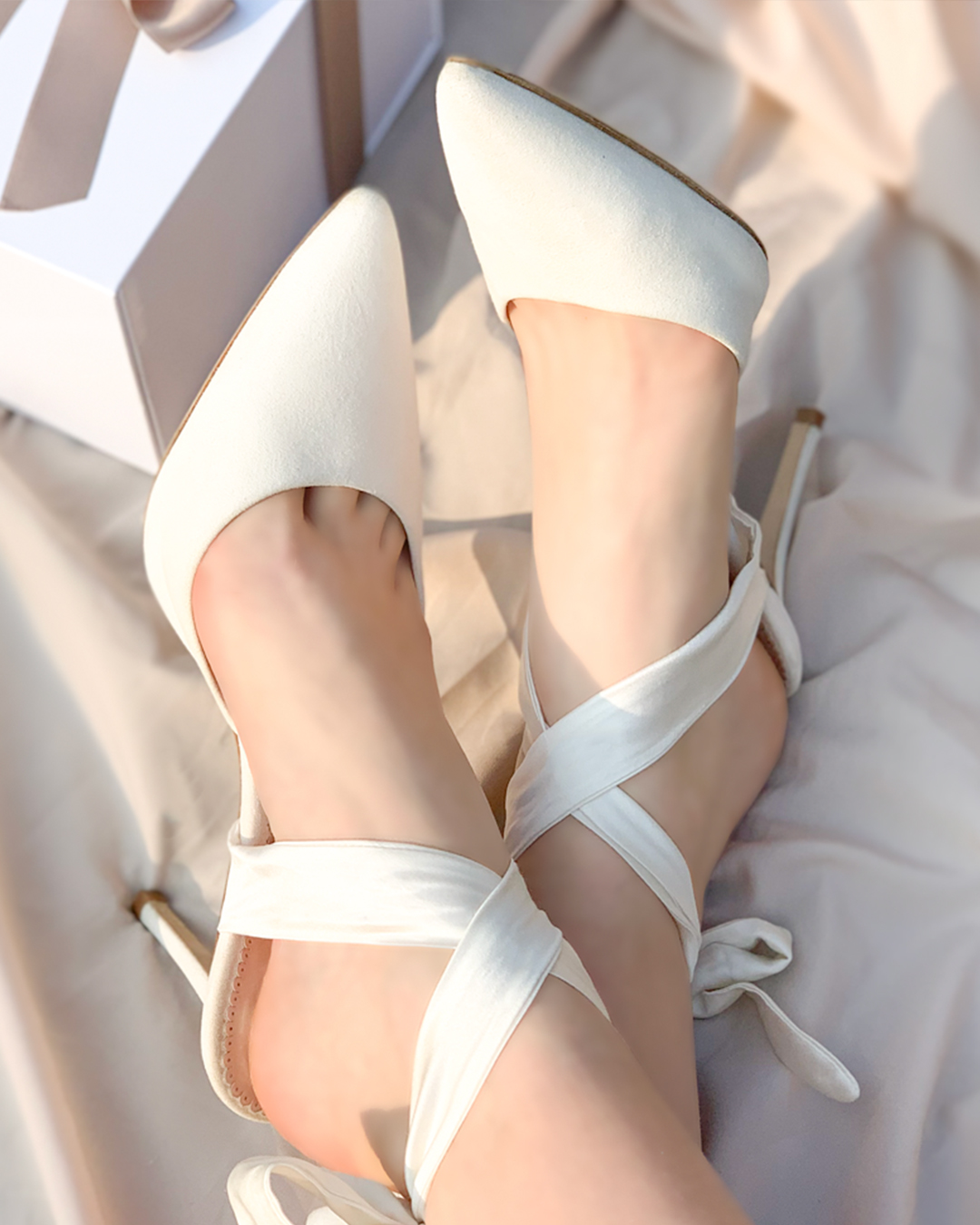 Do you have a favourite shoe in the collection?
I've had a few favourites along the way.
We have a shoe in the collection called Leila, which is a really lovely soft construction so it's a really good way of wearing a high heel whilst being incredibly comfy at the same time. Which is what my design ethos is all about; the perfect balance of beauty and comfort. Every time I wear my Leila shoes, which is often….I look down at my feet and think to myself,'I was having a good day when I designed you'.
I also love the Colette style and have them in quite a few colours. I find them super comfortable, I love the simiplicity so they are easy to style; dress up or dress down.
Tell us about the origins of your relationship with shoes
I love shoes, always have and always will.
My love of shoes was established from an early age.
I'm one of 4 so there were quite a lot of shoes in our house. New shoes were a bit of a rarity which must have fuelled my passion for shoes even more. I loved and cherished getting new shoes, the smell of them, the feel of them, the look of them – everything! So much so, the first night of having them before I'd worn them I'd put them under my pillow!
When I was about 7 years old I attempted to make my first pair of shoes. They were heavily inspired by my older sister's Scholl sandals, they're like clogs with a strap over the vamp, they were quite fashionable in the 70s and still going strong! But hers were sadly too big for me to borrow, so with my Dad's help I made my own. They were super simple, just a strip of wood with elastic nailed to the sides, I thought they were amazing. But my Dad said:
"Whatever you do, don't wear them to school!"
And I thought,
"Ha, course I won't!" whilst thinking, "what does he know, of course I'm going to!"
So I took them to school in my satchel and at playtime I put them on. When the teacher blew the whistle to line up to go back into class, the whole class including the teachers turned to look at me noisily clip clopping across the playground and laughed at my homemade shoes!
Needless to say, my first attempt at shoe making probably wasn't the most fulfilling but that hasn't stopped me!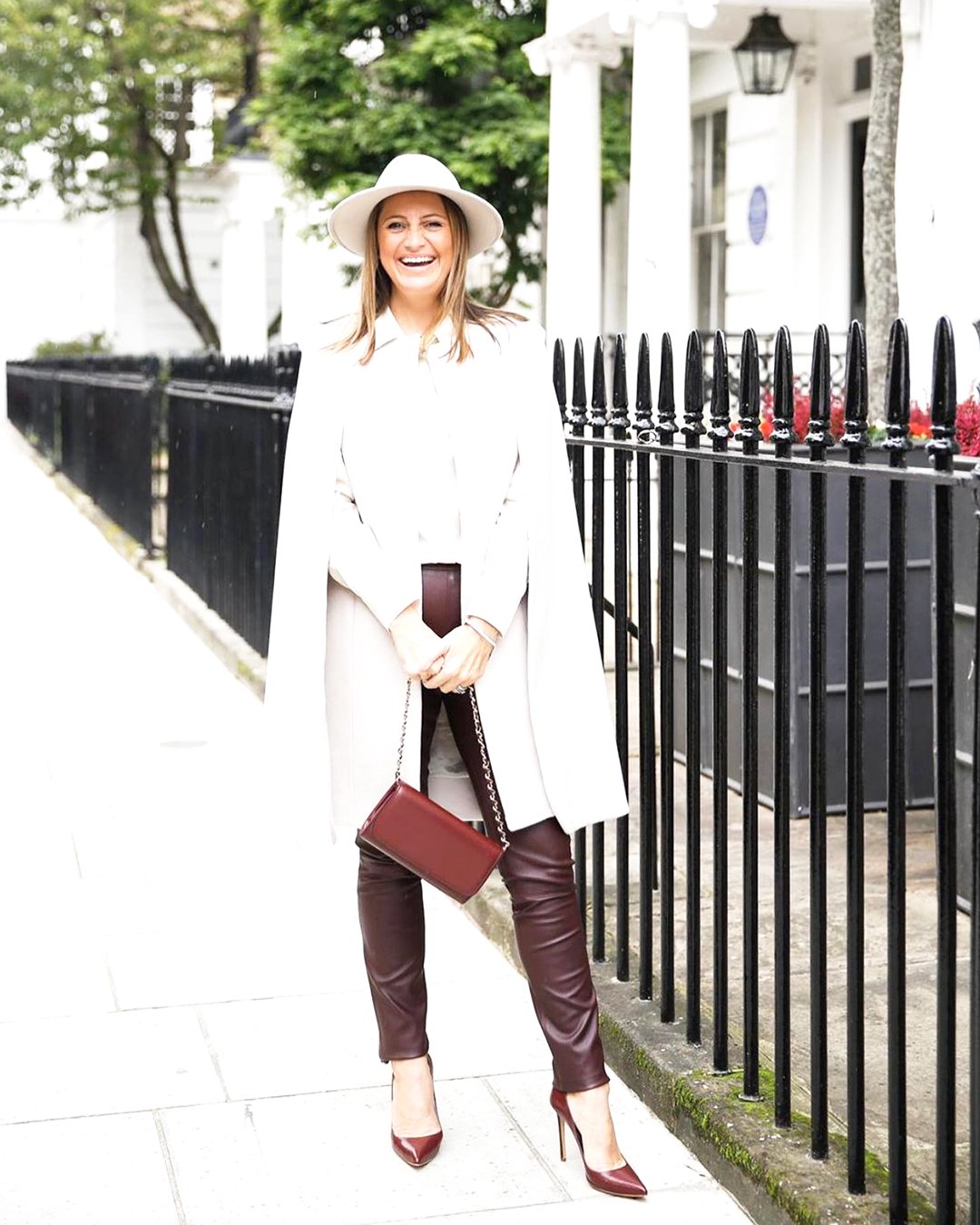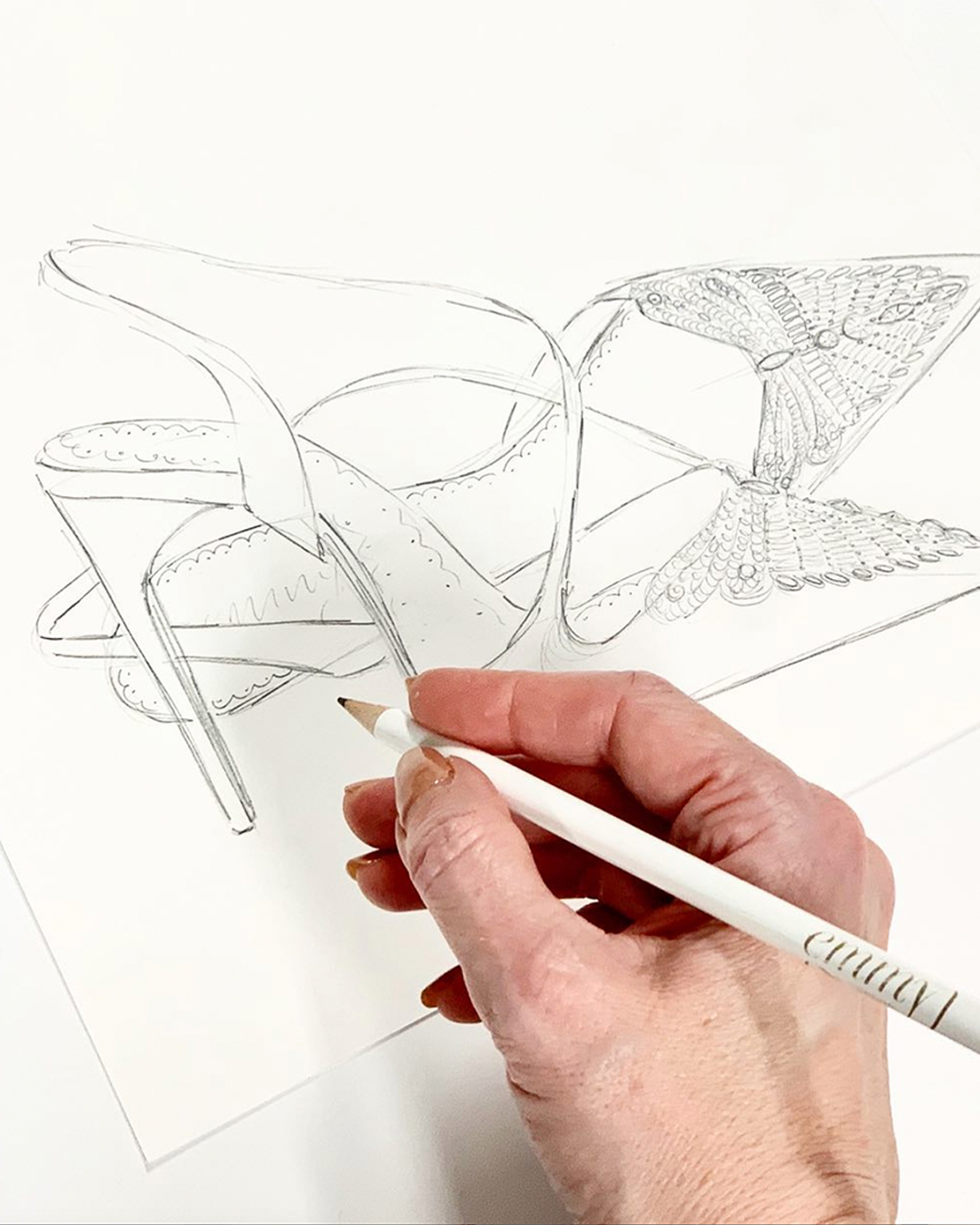 If you had an unlimited budget to start another company, what would you specialise in?
Since getting my Cockapoo puppy, Ray, I have discovered the world of dogs! I would love the opportunity to create my own dog accessory collection. It makes perfect sense because there's a lot of choice out there but there's not that much choice when it comes to luxury.
I think most dog owners are happy to spend money on their dogs, it's another representation of their taste similar to when you have a baby, idealy you want everything to reflect your taste.
The collection would be luxury leather leads, collars and harnesses; practical, yet tasteful! It would have the same ethos as our shoe collection of timeless classics, well considered and handmade to immaculacy.
From a sourcing perspective it would be relatively easy as it would be the same path of production, using the same materials, skillset and components.
Watch this space!
What do you get up to when you're not designing shoes?
I've discovered a passion for exercise as I've got older, so it's not something that I've always done. I exercise outside as a group (mainly women) in all weathers 3 morning a week and I love it. I have discovered that doing something totally different from my day to day to do list totally refreshing. It's my chance to not be Emmy the shoe lady, Emmy the twin mum or Emmy Ray's owner. I'm just Emmy trying to do a plank!
After eash session I feel like I've achieved something so anything else that I achieve that day will be a total bonus. That feeling is quite addictive!
Now my girls are older I have rediscovered the time and my love of reading. At the moment I'm I'm reading a book written by Rosalind Russell called The End of Where we Begin.
It follows the story of 3 refugess, a true and honest insight into the reality of loosing everything and everyone but not loosing all hope for the future. It's beautiful, confronting and inspiring. With everything going on in the world right now, I highly recommend this read to provide perspective on what is really important to us.
Where do you start when it comes to knew inspiration for designs?
In normal times I travel quite a lot for work and I find that ideas come to me whilst I'm traveling, mostly because I'm somewhere new and inspiring. So for example I designed a whole collection based on Italian gates as I happened to go on holiday to the Italian lakes and there were loads of beautiful overgrown gardens with really beautiful gates!
But during the pandemic I obviously haven't had that opportunity. I guess the other part of getting inspiration while you're away is that you have a bit more headspace and distance from what's going on day to day. I think it's easier to clear your mind a bit, so I look forweard to travelling again the new ideas I may explore.
Interestingly my design inspiration never comes from shoes, I very rarely look at other designer shoes. The source of most of my ideas come from really random things like doorways, tiling, chairs, cushions, insects, flowers, shells, more natural and architectural references.
What was the first shoe that you designed and produced for Emmy London?
Weddings weren't on my personal radar in my late twenties, but one of the reasons why I set up Emmy London and got interested in the bridal market was because my really good friend Lucy was getting married and she asked me to help her find shoes.
We went out for the day and really quickly just got really disheartened because we found nothing appropriate. Everything was either really frumpy or unwearable and I was just like:
"Where do you go if you go if you are really into shoes? And where do you go if you want to be just as excited about the shoes as you are about the dress?!"
What was out there felt like such a massive compromise on comfort, style, price - everything!
I think in a business studies text book, it would say I had identified a gap in the market.
So I asked Lucy to really think and imagine what she wanted from her bridal shoes. I designed and made them for her as a wedding gift. They were a little kitten heel, pointed slingback with sage green piping that matched her flowers.
It wasn't a complicated shoe, but it was everything she wanted. It really made me understand the importance of having the right product and making it special for that person.
What other brands do you look up to in terms of style ideas?


I do really appreciate and admire Manolo Blahnik's very specific aesthetic, he very much sticks to what he knows and loves and there's no movement from that.
I just think that's a really good way to evolve a brand. I also really admire his attention to detail and the craftsmanship of his shoes, for me they were a real bench mark of perfection.
I also really love a cashmere brand called 360 cashmere, based in LA, they do really beautiful shapes in gorgeous colours with a modern twist. The styling isn't 'out there', so you can still build a classic wardrobe. I feel like it's the equivalent of our shoe collection but in cashmere.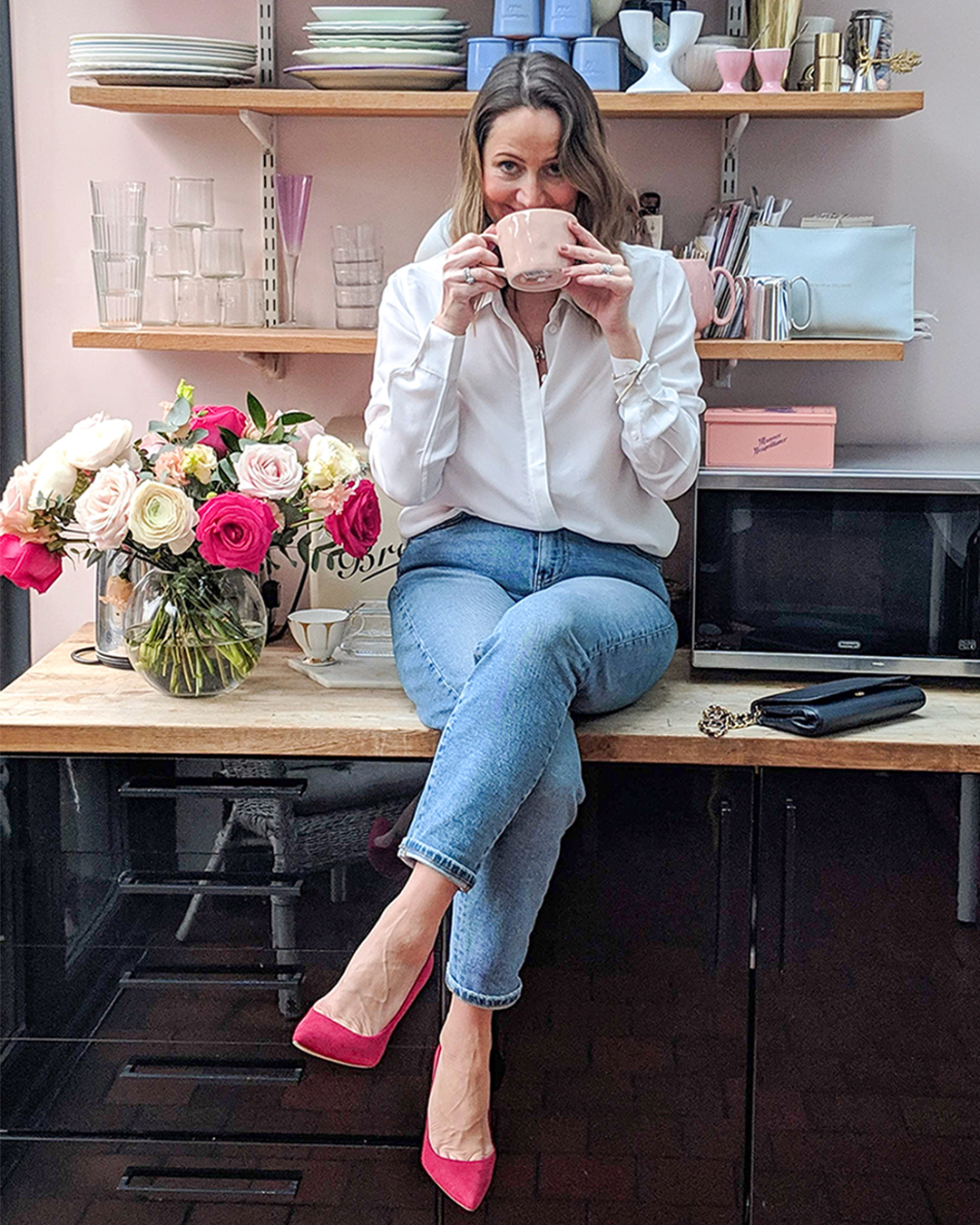 Why did you start your own business?
When I was younger I wasn't frightened of risk and I always assumed that I'd have my own brand at some point, it just didn't feel that unrealistic to me. I didn't feel daunted by launching a brand and running a business for the first time and I wasn't intimidated that I didn't do a business degree for instance, I just kind of thought,
"Well it can't be that difficult can it?"
So I was fairly worry free, but before I set up Emmy London I worked for other designer brands and I think in some ways that's a real challenge because you're designing into somebody else's aesthetic. I started getting to the point where I was facilitating a lot of ideas, but they weren't my own and I've always been fairly clear on my own aesthetic. To have the creative freedom that I have now and the luxury of designing and making what you truly believe in and truly love is a much easier task!
In hindsight I was 100% naive, but I think if I knew then what I know now I maybe wouldn't have been so brave.