Emma's Vibrant London Celebration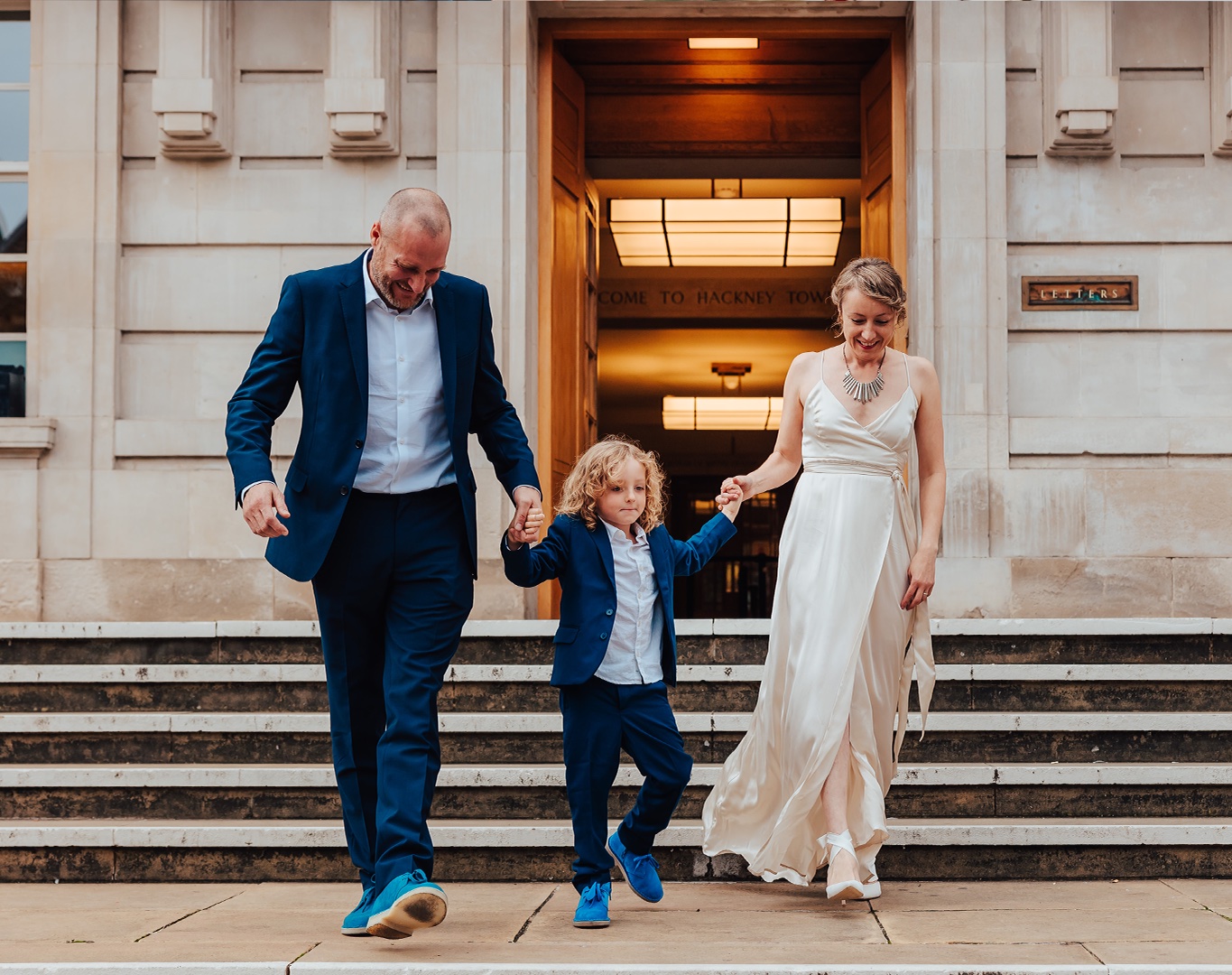 30 years to the day after Emma and Chris first met at school, they wed in Hackney Town Hall surrounded by their closest friends and family for a Fun, relaxed and colourful celebration of love. Read on as Emma describes the moment she proposed to Chris, the vision for their wedding and her top tips for future brides.
"In the two years building up to our 20th anniversary, I always thought it would be great to surprise Chris with a marriage proposal. Earlier that day Chris had surprised me with tickets to see The Motown Musical. The show was fantastic. Even Chris enjoyed it. As the alcohol flowed and I got whisked up in the music and love story in the show, I decided to go for it and simply said I'd like to be Mrs. Sussex. I've never seen him so shocked - and happy.
We then sat on the wedding idea for 4 years after I proposed. I realised it was soon going to be the 30th anniversary since I first set eyes on Chris at school (I had a schoolgirl crush on him for 5 years before we finally got together). We both thought it would be great to get married 30 years to the day that we met. So, we did on 8th October. That then only gave us (me!) three months to pull the wedding together. Eek."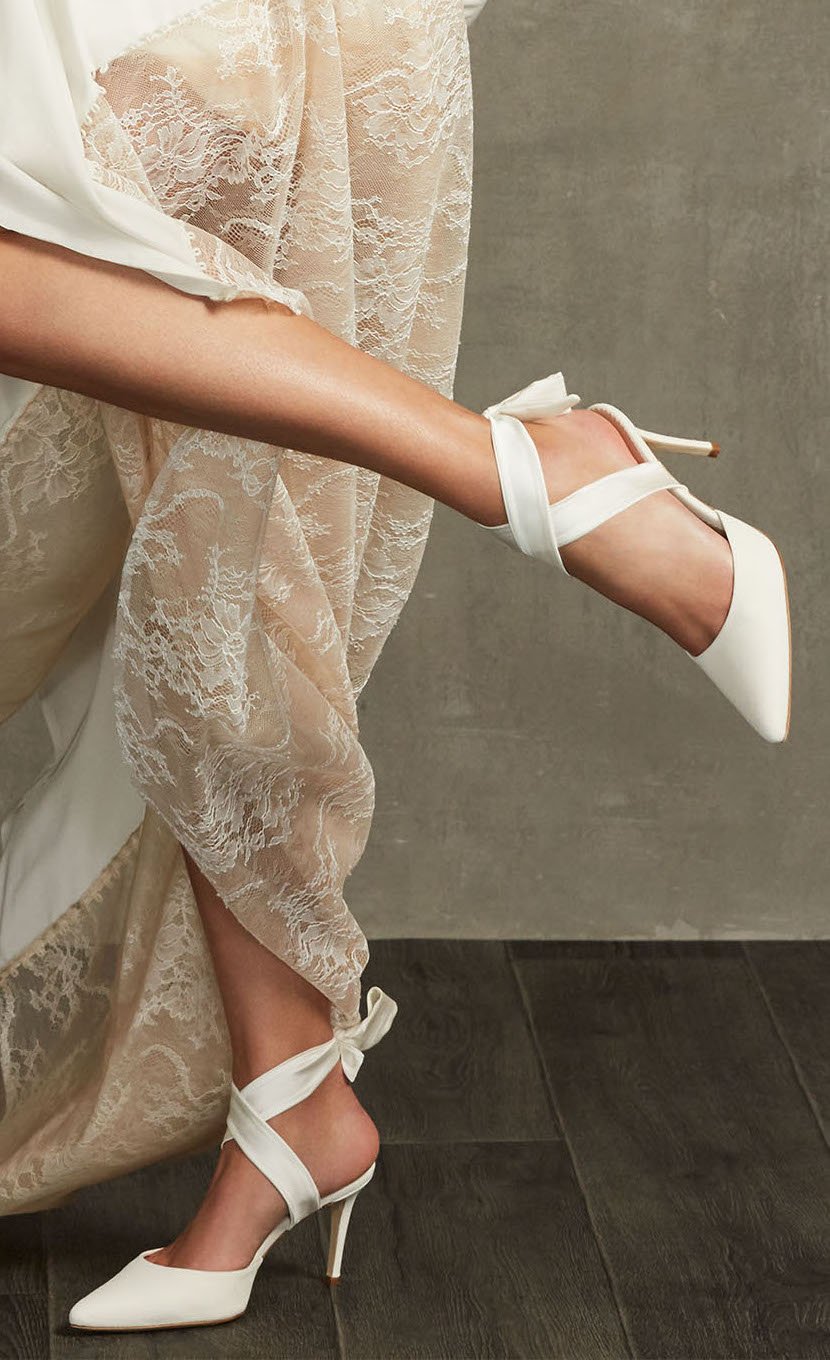 THE SHOES
Pulling together a wedding so quickly was not easy. There were many details I tied myself in knots over. But I was really lucky that the Emmy London Collette shoe was the first shoe I tried, and I simply fell in love with them.
The colour matched my dress perfectly. I don't tend to wear heels anymore - especially after lockdown, so I was a little worried I wouldn't be able to walk in them. The ribbon tied around the ankle was so soft and the shoes were super comfortable. Plus, they gave me the extra height I needed without the agony. I had bought a change of dress and shoes for the evening, but I loved my Collettes so much I only felt I needed to change my dress and left the Collettes to carry me on dancing into the early hours!
The fact I can die the shoes (and my dress) now the wedding is over - I know I'll be finding every opportunity to wear them again in the future too!
THE VISION
I'm not someone that's always dreamed of my 'big day'. If anything, I never wanted to get married. But when the penny dropped that I did want to marry Chris, I wanted it to be as relaxed and chilled for us and our guests as possible. Registry office followed by a reception in a pub. With our son in the middle of us. Simple.
Despite my wanting to keep it simple, I ended up getting carried away in silly details for the day. Luckily a couple of my best friends, Cree and Emily helped me navigate it all and we pulled together a really colourful (and affordable) theme that fitted my and Chris' lifetime of going to music festivals. All based around some beautiful bunting I had just randomly bought at E17 Art Fair. (@RebelBunting)
Possibly to the disappointment of friends, we didn't have bridesmaids, best men, or ushers. We weren't fussed about traditions. We just wanted to feel a bit glamorous for the day and have a big party with our nearest and dearest. The whole reason behind it was really to use the occasion to get old faces together– something it felt we all needed after lockdown.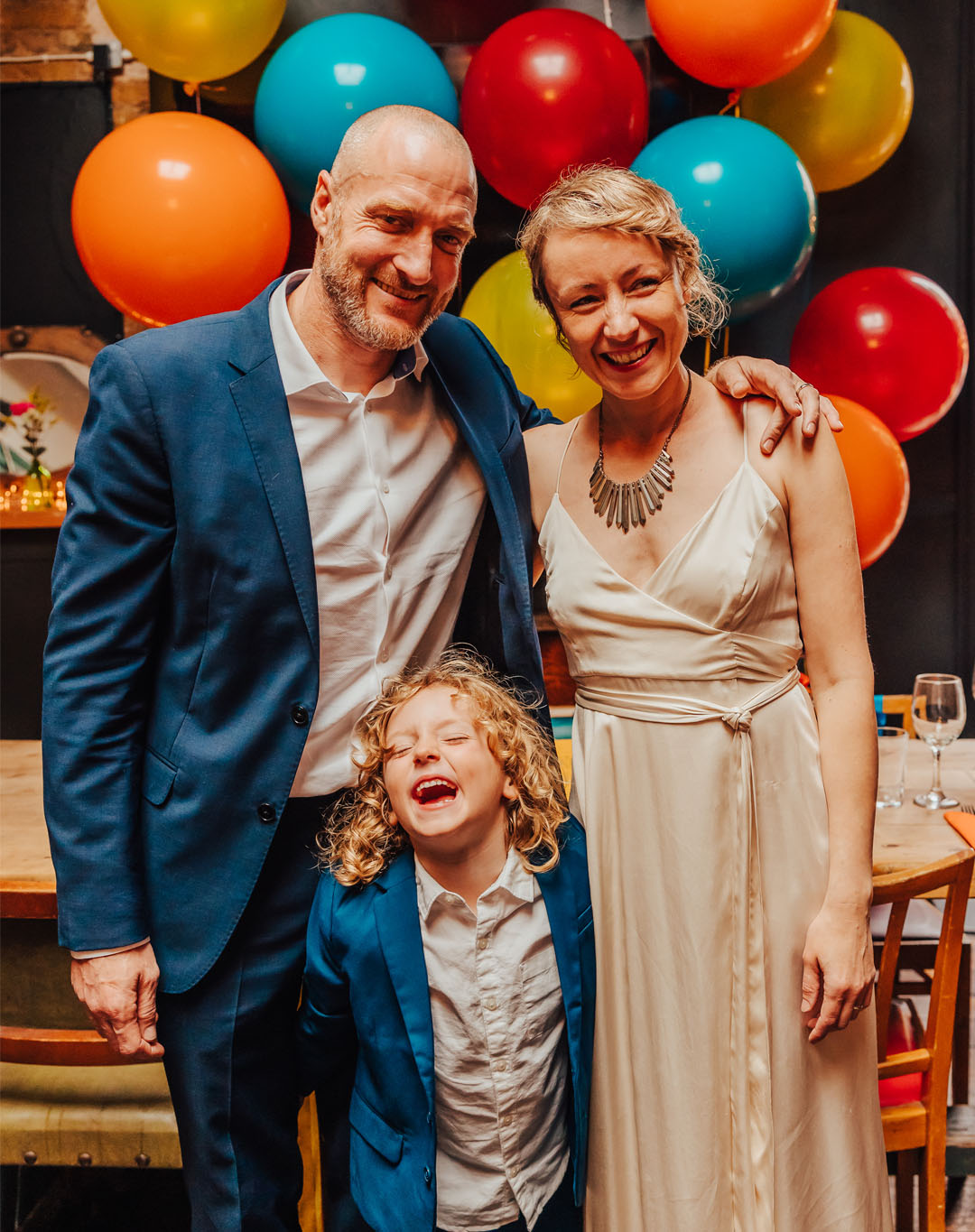 THE EXPERIENCE
I'm really grateful for Emmy's advice on the best shoe options from her range. She helped identify shoes that would go beautifully with my dress and ones that addressed my concern about wearing heels with a dodgy ankle. The communication was especially great considering it was all done online. I had been quite blasé about how important details such as shoes are for my wedding day. Luckily, I discovered the importance on the day but had exactly the right shoes, so no last-minute dramas or tantrums.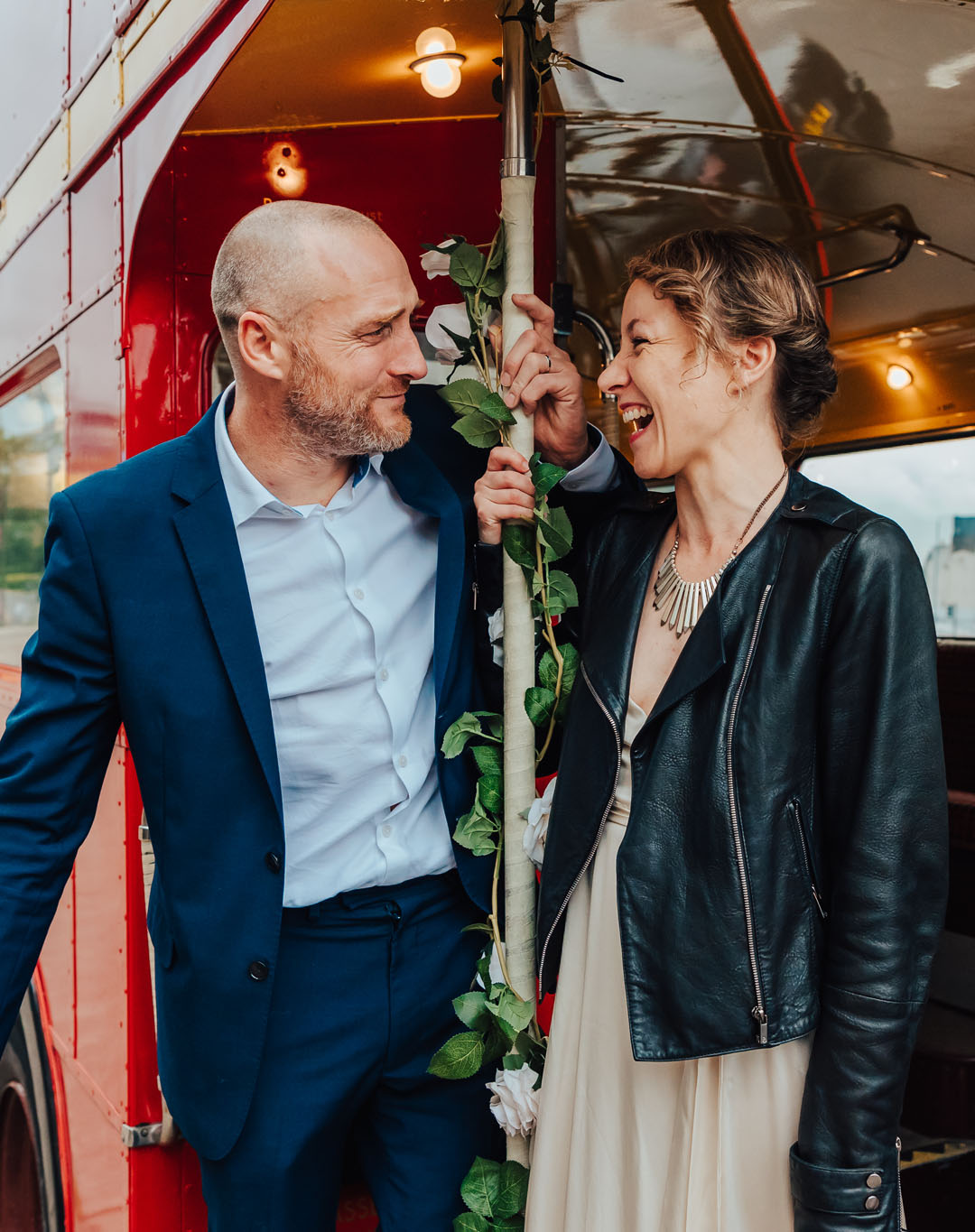 EMMA'S TIPS FOR FUTURE BRIDES
For the shoes, know Emmy London is the only shop you'll need. Whatever your taste or style, they'll have something for you. They will take the stress out of the process and give you something you'll love and appreciate forever.
Also consider the timing of when you buy the shoes. You really need to know what shoes you'll wear and have them in hand when you get your dress length adjusted. The coordination of that was quite tight for me as I didn't have much time.
For the wedding itself, do what's right for you – not what others want, or what tradition dictates. Know and accept it's unlikely you'll please everyone and there's a chance someone might find fault whatever you do – so as long as you are happy with your choices, it really doesn't matter what other people think.
SUPPLIERS
Photography by Luke Dyson - https://lukedyson.com/, Shoes - Collette by Emmy London, Wedding Dress - Nuit dress by Kamperett, via The Fall Bride, London - https://kamperett.com/ / https://www.thefallbride.com/, Evening dress - Elecia Fringe dress by Phase Eight, Ceremony Venue: Hackney Town Hall - https://www.hackneyvenues.com/hackney-town-hall, Reception & Food: The Clapton Hart, London - https://claptonhart.com/, Bunting: Rebel Bunting - https://www.rebelbunting.com/, Flowers: Sainsburys, Table decorations: eBay, Transport: The London Routemaster Bus Hire - https://londonroutemasterbushire.co.uk/, Flower Cup Cakes: @Sandyscupcakesuk (Instagram)